Language training has become an afterthought for most organizations today. But the truth is it can propel your business forward especially in today's distance economy. Read this to learn more language learning insights.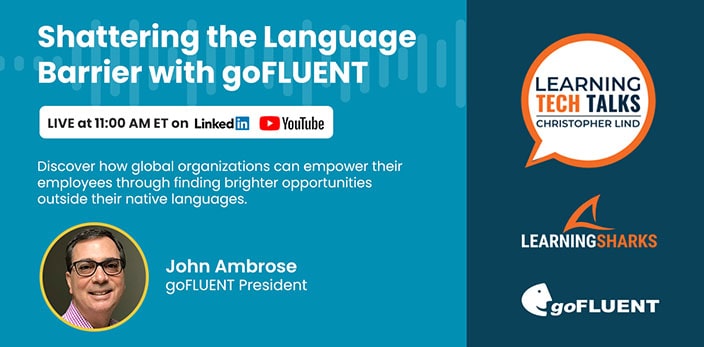 Language learning has become less of a priority for some organizations. But this shouldn't be the case! For one, effective communication —through clear and crisp language — is crucial in creating a conducive and collaborative working environment.
  
In the recent episode of the Learning Tech Talks entitled Shattering the Language Barrier with goFLUENT, goFLUENT President John Ambrose spoke with Learning Sharks Founder Christopher Lind. He explained how organizations today, especially global ones, can benefit from having their L&D and talent strategy centered around language learning.


Read through to discover how language training aids global organizations:
Facilitates better collaboration among teams
It needs to be emphasized further that communication is the answer to more effective collaboration. This is becoming more apparent especially in today's digital and distance economy. Almost every aspect of work is done virtually; with the faster pace of work, organizations can't afford to be inefficient. Or else, they'll run the risk of having low productivity and profit.

Interestingly, Ambrose mentioned that only 5% of the world's population are proficient in business English out of around 8 billion people in the world. And this might be alarming to companies who communicate in "business English", both internally and externally.

Global organizations (which are most likely headquartered in English-speaking countries) are now expanding their business exponentially to other parts of the world. This equates to a multicultural workforce. For them to be able to work together, there should be a business language that they can all understand and stick to. This is where language training is key.
Expands your talent pool by not filtering candidates based on language proficiency
Conversational fluency, a standard often used to assess candidates during hiring processes, isn't the same as business proficiency (for example, the ability to host conference calls and present proposals).

For instance, speaking Spanish in a business setting is very much different when you're speaking the language colloquially. There are stark differences in cadence, examples to be used, technical jargon, and such language considerations.

Ambrose asserted that this is a big issue especially for companies who only test prospective employees for basic language proficiency at the outset. And when they bring these employees to the workforce, the organization discovers that these people are ill-equipped to speak in the language of business.

This then creates huge skills gaps within organizations. But don't fret, this is why it's important to have a language training program within your company. And this is highly crucial especially to global organizations!

The goal is to enable your talent pool to have sufficient language skills, allowing them to be more effective in their job roles.
Removes the ceiling of upward mobility in global organizations
"If you don't have language skills, it's almost impossible to build any of the other skills that you're going to need to be able to be effective in your role," said Christopher Lind, the host of the Learning Tech Talks podcast.

And it's true! This is because upward mobility needs language skills. The lack of language training isn't only destructive to your organization's L&D strategy but also to your company's talent strategy.

For instance, if you're looking into hiring people outside the US because of their technical and specialized skills, you should have a plan in developing their language skills. As mentioned, in the first point, language is key to collaboration.

Ambrose emphasized that one of goFLUENT's main goals is to democratize the notion that language is fundamental in any organization. It needs to be developed like any other business skill. Also, it's the ticket to progression.

According to Lind, investing in enterprise language solutions is how L&D can step into the business conversation. Talent heads can reinforce that these programs are their contribution from a talent standpoint. Language learning can help them open their organizations' talent flood gates.
Helps enrich your DE&I program
There's no L (Language) in DE&I (Diversity, Equity, and Inclusion), but there should be!

In an international and multicultural workplace, it's important to accommodate different cultures and speakers of different languages. By doing this, you show members of your organization that you create an environment where everyone can confidently communicate in their language.

Sharing this vision, Ambrose explains that goFLUENT's mission is to let each employee break through the "language glass ceiling" no matter what their native language is. The company addresses this concern by providing learning programs for 11 target languages aside from English — French, German, Spanish, Italian, Mandarin, Portuguese, Dutch, Russian, Arabic, Japanese, and Korean.
Creates opportunities for everyone
Since its founding in 2000, goFLUENT has been committed to upholding their mission to provide everyone an equal voice. And this is because the organization believes that language is the greatest equalizer. goFLUENT has been creating language training solutions for everyone, from beginners to intermediate level speakers.

Through language learning, companies can give their employees the opportunity to communicate more effectively with their international counterparts. At the heart of language learning is bridging the gap between cultures, traditions, and beliefs for everyone within global organizations.
Conclusion
To sum up, language training is critical to companies' L&D and talent strategy especially for global organizations. Dealing with a multicultural workforce is no easy feat, so it's only necessary to have a solid language strategy in place.