Develop language and communication skills needed for
global collaboration with flexible face-to-face language training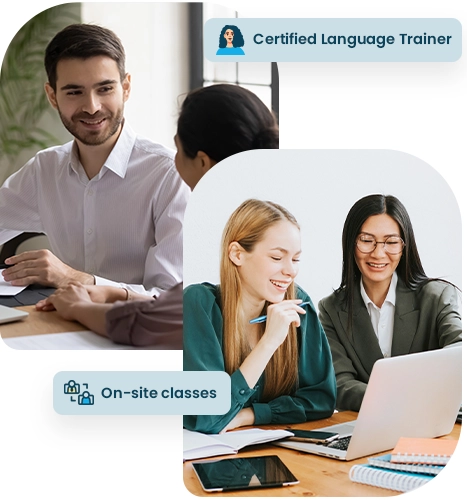 Ensure language learning progress with an in-house goFLUENT trainer
Entrust your face-to-face language training (F2F) to a goFLUENT certified language trainer. goFLUENT's in-house language trainers are industry professionals equipped with knowledge and skills both in business language training and in utilizing goFLUENT's award-winning eLearning platform, Corporate Language Academy.
With the help of language training experts:
Training content is maximized for online and on-site delivery

Learners are guided and given feedback in every step of their language training journey
Deliver business impact with workplace-relevant course content
Provide job-relevant course content for a face-to-face language training program by leveraging the expertise of goFLUENT certified language trainers combined with AI-powered learning from Corporate Language Academy.
Corporate Language Academy enables personalized training material recommendations based on the learner's job function, learning goals, portal activity, and level progress.

goFLUENT certified language trainers add a human touch to the F2F language training program by adjusting or recommending the training course based on the background and progress of the learner.
Streamline language learning and training management with Corporate Language Academy
Achieve KPIs and monitor progress conveniently through Corporate Language Academy. The unique eLearning platform is not only home to 10,000+ language training content assets, but also serves as a training management tool for both managers and learners.
Set your on-site language training program up for success by providing a platform that allows:
Learners to check their levels and activities

Managers to access a special dashboard for real-time updates of each learner's progress
Manage face-to-face language training for your organization
All the tools and services you need to deliver on-site language training
are in our Corporate License
Language training support team
Reach your KPI with the help of a Customer Success Manager, and guide your learners with our Learner Support
Instructor-led language training
Improve speaking and writing skills with personalized and immediate feedback from expert F2F language trainers
Corporate Language Academy
Discover AI-powered eLearning and access our massive language training content anytime, anywhere
Adopt a truly blended learning approach
to corporate language training
Deliver online language training across your global organization
Optimize training with individual virtual language lessons
Unlock effective business writing in any language
Connect employees worldwide through virtual group language lessons
Enhance language skills in virtual conversation classes
Blend face-to-face language training with your digital program