Meet Kaori from goFLUENT Japan! Learn how she managed to overcome language barriers that helped her succeed in a diverse workplace through strengthening her language skills.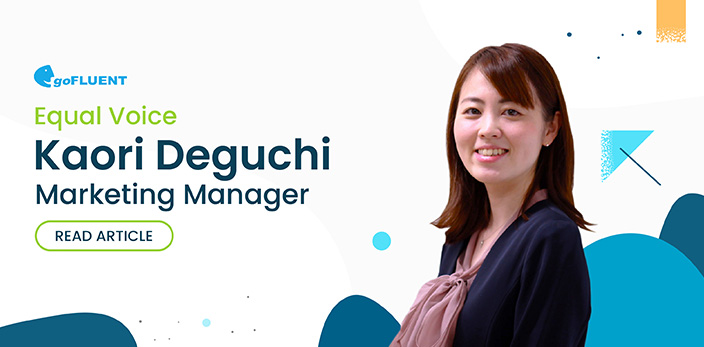 Kaori Deguchi is the Marketing Manager (and also the first dedicated marketer) of goFLUENT Japan. For over two years with goFLUENT, she has been coordinating with global colleagues and stakeholders, both local and international, to promote goFLUENT and generate business opportunities in terms of marketing. Some of the biggest companies she's been working with are Salesforce, Coca-Cola, Asahi Group Holdings, and Hitachi, among others.
In this article, get to know more about her language training journey and how language has helped her achieve success and feel belongingness in an international working environment.

Developing in a global and multicultural organization
Being part of goFLUENT, an organization with offices around 20 countries and which provides language training solutions to corporations to support global human resource development, Kaori knows the value of having the appropriate language skills in order to effectively communicate with colleagues and clients.
What does diversity, equity, and inclusion (DE&I) mean to you?
Kaori: Working in a corporate environment, I think that DE&I means being in a group of people with different ideas and backgrounds from my own, being accepted for our own individualities, having equitable career growth opportunities, and continuously contributing to the growth of everyone. For me, this is how an innovative, inclusive, and equitable culture is created.
As a woman, it's also important for me to see women represented in leadership roles. In goFLUENT, I look up to our women leaders who inspire me to strive harder and excel more in what I do.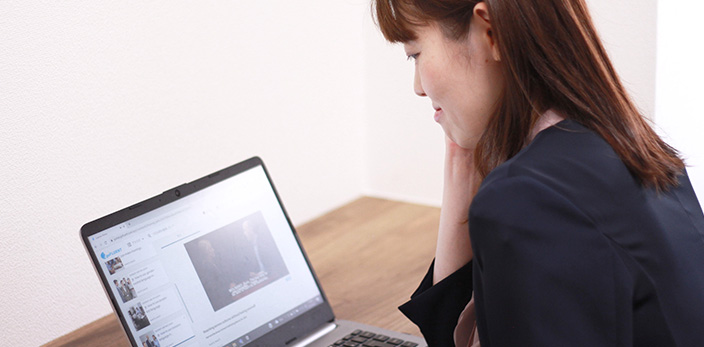 What's the biggest challenge working in a diverse work environment?
Kaori: When I first joined goFLUENT, my English skills weren't really good enough. Before, we organized a combined online and on-site event in Japan and our overseas team supported the operation. It took me a long time to formulate the process with them and make complex requests since I was quite unfamiliar with how I could effectively express myself in English. The biggest challenge working in an environment as diverse as we are in goFLUENT is overcoming language and communication barriers.
How does goFLUENT help you build your language skills?
Kaori: In goFLUENT, we value language learning. We're given opportunities to learn different languages, so I took some 1-on-1 English lessons. Because of this training, I was able to learn from my mistakes and improve my speaking and listening skills. Also, when I communicate with my colleagues, we usually speak in English which encourages me to practice the language more. This pushes me to do better in an international working environment.
Within the goFLUENT training platform, we don't only get to learn languages, we can also learn them in the context of business. Here are two of my favorite videos:
Three characteristics of unusual disruptors by Malcolm Gladwell (from World of Business Ideas, 2014)
How cultures across the world approach leadership (from Harvard Business School Publishing, 2017)
These insightful videos helped me better hone not only my English communication skills but also my leadership and management skills which are critical in meetings, negotiations, and interactions I have with our prospects and clients.
Feeling a sense of belonging within an inclusive environment
More than providing training that can further enhance knowledge and skills of employees, it's best that global organizations address DE&I genuinely by providing equitable access to training as well as make them feel that they're included.
How do you feel included within your work environment?
Kaori: Recently, I had the chance to meet some of my colleagues during two international business trips — one in Greece and another in the Philippines. I've realized that even though we come from different countries and cultures, there's still a strong bond built among us. Those events made me appreciate working in a diverse environment.
I felt that I belonged. I could still feel the trust we've built over time even if we've only communicated virtually before finally meeting one another in person.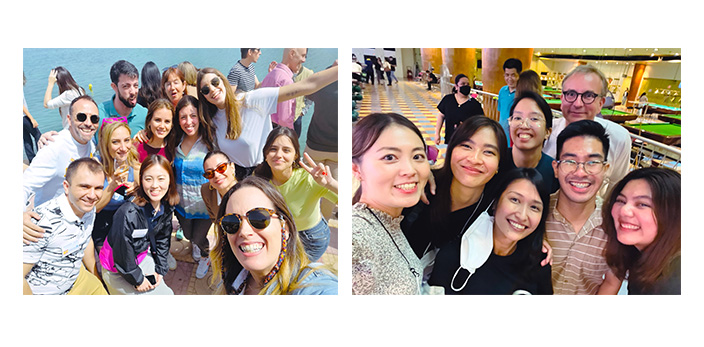 How do you think goFLUENT is able to support DE&I through its mission to provide everyone an equal voice?
Kaori: Through goFLUENT's Corporate Language Academy, all employees within an organization have equal opportunities to enhance their skills and advance their careers through language learning experience. For example, goFLUENT Japan is currently working with Hitachi Academy, which provides training for all Hitachi Group companies. This gives all 30,000 Hitachi, Ltd. employees access to regularly updated language training content on a variety of topics and languages integrated into Degreed. This gives all employees an equal opportunity to learn, and even non-Japanese employees can learn other languages, including Japanese. By learning a language, employees can increase cross-cultural mutual understanding and experience what it means to work in a diverse environment.
Achieving success through language as an equalizer
With her improved English communication and language skills, Kaori has managed to achieve various successes in her career as a marketer that definitely moved the needle and created a huge business impact for goFLUENT.
What is your biggest achievement working in a multicultural environment?
Kaori: My biggest success, so far, is when I managed to create a huge business opportunity with a leading Fortune Global 500 IT services and consulting company since the main goal of my job role is to generate business opportunities to help the organization further expand and develop. But this won't be possible without the help of my colleagues from Spain and the Philippines, who are in charge of our marketing operations. Also, I wouldn't be able to communicate with them in a smooth and efficient way if it weren't for the English lessons I've had with goFLUENT. Although having the appropriate English skills is just one factor that contributed to this success, I can still say that it gave me a huge advantage!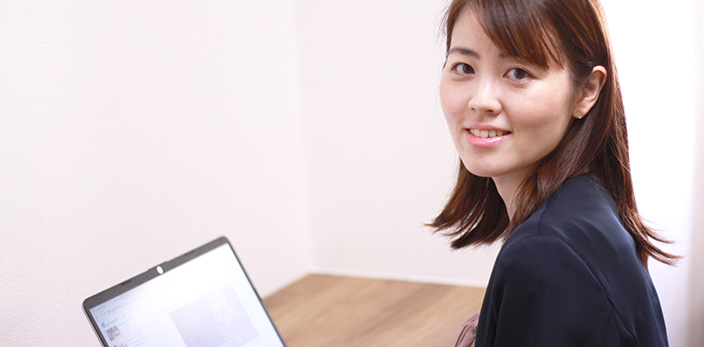 Looking into the future, what do you want to achieve in terms of DE&I in the workplace?
Kaori: In the future, I want every corporation and organization to have an inclusive culture. Some of our clients in Japan have recently started focusing on DE&I, and gladly, they've been using language training from goFLUENT as an important part of their own diversity and inclusion initiatives.
One example is Coca-Cola (Japan) Co., Ltd. when they started addressing Diversity & Inclusion through digital language training that can further support their employees' global career advancement.
Conclusion
Understanding cultures and having great communication skills are important for productivity and smooth business processes, especially in multicultural workplaces. Kaori's story has proven that language training can be a tool to provide better opportunities for employees for them to widen their professional opportunities and thrive in a diverse organization.
Equal Voice aims to showcase the diversity of goFLUENT through highlighting the key role of language training in helping organizations achieve a more equitable and inclusive workplace where everyone can thrive. In this series, we amplify the voices of our colleagues whose professional lives have prospered with the aid of "language" as a tool to gain access to various work opportunities, no matter their gender, age, ethnicity, and social status.