Discover how digital learning has played an important role in the L&D of huge companies like Visa, Autodesk, Mars, and Sanofi as Josh Bersin spearheads the discussion on the current and future state of L&D.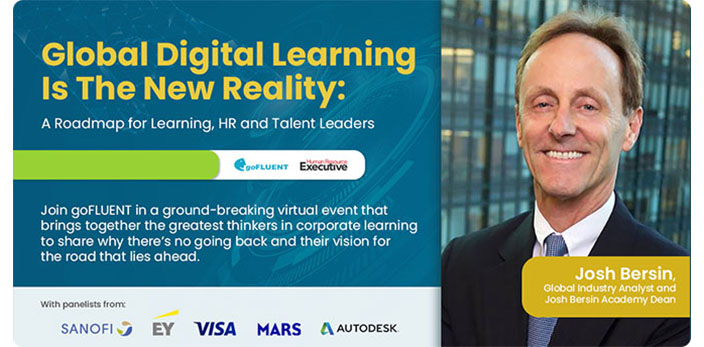 Digital learning has indeed become a new way of life for most organizations as the pandemic continues. Everyone needs to work remotely and train virtually, so it's best for learning leaders to discuss digital learning's role in the future of L&D.
In our webinar entitled Digital Learning is the New Reality: A Roadmap for Global Learning, HR, and Talent Leaders, renowned HR industry expert Josh Bersin moderated the discussion on how global learning experts from Visa, Autodesk, Mars, and Sanofi have shifted their training and development strategies and their perspectives on what's next for L&D.
Among the the pool of panelists who joined us in our roundtable discussion are:
Karie Willyerd, Chief Learning Officer of Visa
Terry VanQuickenborne, Global Head of Learning and Organizational Development of Autodesk
Nuno Goncalves, Global Head of Strategic Capability Development of Mars
Christine Vaccola, Head of Global Leadership Development of Sanofi
Here are four key takeaways from our digital learning webinar:
Digital learning facilitates training and upskilling at scale
It's an exciting time to be within the L&D space because of the acceleration of digital technologies. Josh Bersin and the panel echoed this sentiment throughout the webinar.
For Christine Vaccola of Sanofi, digital learning is a critical aspect of their organization's L&D roadmap. With approximately 100,000 employees involved in training, this is how they manage learning at scale. Prior to the pandemic, 80% of Sanofi's training was done in a classroom setting. But Vaccola thinks that they won't be going back to that past. With digital learning, they simply reached more learners.
Moreover, through digital learning, companies can deploy a lot of content very quickly to a lot of learners, Bersin shared. The downside, he said, is that you can't be certain if it's "moving the needle" in your business or not. This is why he asserted the importance of building some kind of a capability framework to ensure that the content is going in the right direction.
Other benefits of having digital learning capabilities are faster and more agile training, and more flexibility and variety when it comes to modes of instruction. In fact, at Autodesk, they've experimented with using virtual reality (VR) for simulations, digital learning for coaching support, and virtual classrooms, which in their case, worked well for their learners and L&D, in general.
Soft skills are now more in-demand than ever before
"It's important to be agile, and we need to be fit for purpose", said Nuno Goncalves of Mars. Bersin agreed with this by saying that the challenge in L&D today isn't just a problem of technical skills, but also of soft skills which can help business professionals become good managers and effective leaders. In the past, companies thought that you can just learn these skills in the classroom. But digital has changed this perspective for learning leaders.
With this, Vaccola mentioned that in Sanofi, they have a more targeted approach when it comes to L&D wherein they focus on what she called "transversal skills." These are skills that aren't really related to a specific job, task, or field of knowledge which can be used in different situations and work settings (e.g. organizational skills).
In fact, some of the most in-demand soft skills and power skills (which are also transversal skills) today are:
Change Management
Communications
Storytelling
Growth Mindset
Influencing Skills
Bersin added that younger generations are now more interested in behavioral skills, language skills, and communication, which can help them become more effective employees and leaders in the future.
Gamification and badging are great to have in digital training and development
Badging has been an important element in the certification of their employees in Visa, according to Karie Willyerd. Within their organization, they have around 100 available badges that learners can obtain. How it works is that, for example, in order to "level up", you need to accumulate a certain number of points (e.g. 1 million points). And to obtain a Sales Badge, for instance, you need to complete all training courses on sales.
Interestingly, you can also use badging to connect your employees to the talent marketplace. So if the learner has a specific badge, your LXP can keep the learner posted on different job and project opportunities that might fit their skills and knowledge based on the set of badges they already have.
The key here is using the employee badge system to help learners develop themselves professionally and boost their career within your organization through these added credentials.
Digital learning is the new reality but F2F will still be done in a more strategic way
Bersin had already mentioned in the beginning of the roundtable discussion that the issue today among organizations and businesses isn't about completely replacing in-person training with online learning. While digital learning is the new reality for the majority of organizations today, traditional face-to-face learning will still be here too.
For Autodesk, they're going to continue to amplify digital learning because of its accessibility and flexibility. With digital learning, training becomes more democratized compared to in-person learning. In the company, they have great feedback in terms of people participating in digital learning experiences. They prefer digital learning better since they no longer have to consider travel time and expenses, time zone differences, and such factors. But they believe that there will still be certain programs that need to be delivered through blended learning which also includes in-person learning aside from digital.
On the other hand, both Visa and Mars have observed that their people are eager to come back to the office, so it's best for them to deploy hybrid learning for L&D (e.g. mix of self-directed learning, virtual classroom, in-person learning, blended). As for Sanofi, in-person F2F training will still be considered, but they'll be more strategic and mindful in investing in this mode of training and will administer this on some targeted and particular skills.
Conclusion
The bottomline is that while digital learning has been gaining more traction among organizations globally, face-to-face in-person training will continue to exist. Vaccola of Sanofi put it best when she said that it's critical to continue L&D using digital modalities. But since some people are excited to come back to the workplace and prefer in-person training, it's best to reassess and rethink your investment on F2F training and use it only on a few certain skills.