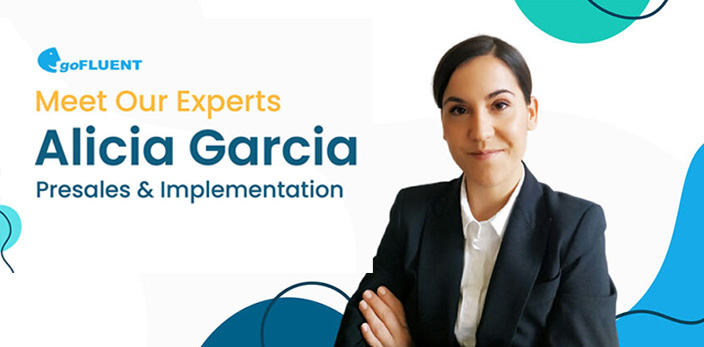 In our newest Meet Our Experts story, we sat down with Alicia from our Pre-sales and Implementation team to talk about how her role and team help give learners a seamless corporate language training experience.
As more companies maximize the use of digital learning for L&D, it's great to make processes easier not only for learners but for L&D leaders through integrations.
Thanks to our Presales and Implementation team, deploying hyper-personalized language learning at scale isn't that big of a challenge at all. From easy access through Single Sign-On (SSO) and instantaneous training registration to real-time reports. Name it and they have it!
Alicia Garcia, Presales and Implementation Consultant, has been with us for more than 4 years now and is based out of our office in Germany. Together with her team, she has been able to enhance the learner's training experience while streamlining the administrator's experience for companies worldwide.
Learn more about Alicia and her role in our latest "Meet Our Experts" article:
Tell us a bit about your background and what led you to goFLUENT's Presales and Implementation team?
There's no better feeling for me than understanding the why of things. What can I say? I've always been a curious person. So, when I started my journey at goFLUENT as a Learning Consultant (LC), I was always interested in what integrations were and how they contributed to making learners' experiences easier.
When I was on the LC team, I often got in touch with many learners, some of whom were less tech-savvy than others. They would find themselves struggling with their computers, getting nervous about resetting their passwords and having trouble maximizing their digital learning resources. That's why I made an effort to understand everything I could about our AI-powered learning platform, asking my colleagues in the Presales team all types of questions to be able to share this knowledge with our learners.
Over the years, I've seen such a magical change in how our solutions not only improved technology-wise but also got easier to access and navigate from a learner's perspective. Today, with just one click, our learners can directly access their goFLUENT Corporate Language Academy!
With that, I realized that helping companies streamline the learning experience is something I wanted to be a part of. So when an opportunity in the Presales and Implementation team opened up, I applied right away. And here I am!
In your own words, how would you describe your role and team?
Simply put, the Presales and Implementation team is in charge of incorporating company branding into our programs with clients, making goFLUENT training easier for learners to access, and providing managers with training reports based on their specific needs. As a consultant, I serve as a trusted advisor for our clients who want to take their digital learning to the next level, helping them with their tech needs.
For as long as I've been at goFLUENT, I can say that we are a truly powerful team, as we've done more than 150 integrations successfully. Being self-motivated, strong, and helpful people, we spend hours designing an effective custom training experience that delivers results and is based on the client's unique needs.
Speaking about your close-knit team, what's your favorite part about working with them?
We're a team that comes from all sorts of cultural backgrounds. Collectively, we speak English, Spanish, Italian, Portuguese, German, Chinese, Romanian, and French! Talk about diversity and inclusion, right?
Despite our differences, it's nice to see how well we all complement each other. I believe it's what makes us open-minded and highly adaptable to challenging situations at work.
We're always willing to help and put heads together to solve a problem. Also, there's this feeling of safety in expressing each others' ideas.
I think this is something that makes goFLUENT, not just our team, unique. I always wanted to work for a company that was accepting, promoted inclusion, and had a family atmosphere. I really feel like that is a large part of what we have here in goFLUENT.
What do you love most about your job? What's challenging?
I come from a generation where I literally grew up with technology and adapted very quickly. So I understand that not everyone is as comfortable interacting with technology as I am. And that's okay because it's exactly what we're here for as Presales and Implementation Consultants!
The best part about my job that I absolutely love? It's that every time I jump into a meeting with a client who needs help understanding the technical aspects of our implementations, the conversation starts with "Sorry, I'm not so technical. I probably won't make any progress today" and ends with "Thanks to you, I get it now. Please send me all the information so I can move forward." Knowing that I was able to assist someone with their tech-related needs always puts a smile on my face.
Every day at Presales & implementation is challenging but in a good way. Challenged in the sense that I just want to give my very best with each project.
Each client's internal system/intranet has its own specifications and needs. There's continuous updating and improvement for learning to always be at its optimum level. That's why it's important that we stay alert and adaptable to any possible changes. More than that, I've learned to not panic whenever a need arises because every problem has a solution. And that is always the case. No wonder we have a 98% customer satisfaction rate!
How would you define "success" in your job?
I make it a point to establish a nice connection with every client, and in turn, I've had lots of great collaborations with them as their trusted advisor. From the moment I take charge of a project until after an implementation has been launched, clients have me top of mind because they trust my expertise.
I would even be asked for my thoughts on how to promote an integration internally or how to drive engagement using their new implementation. For me, it's a pleasure to help and give ideas, which is one of the things I also enjoy about my job.
At the end of the day, there are so many things we can do to make training experiences all the more efficient and enjoyable for both managers and employees. So when I can finally give the green light for a program's launch, which is always exciting, I feel a sense of accomplishment knowing that I was able to use my technical skills in accelerating language learning. That's how I would define "success" in my work.
Meet Our Experts is a blog series featuring different voices from various teams at goFLUENT. From professionals who nurture our client relationships and consultants who motivate and engage our learners in their journey, to those building and creating our content and products, this series showcases different stories of how our experts have been contributing to the success of our clients' language training journeys.