For this Equal Voice feature, we're telling the story of Guillermo from goFLUENT Mexico and how he cultivates diversity & inclusion by putting empathy in language learning so he can better guide diverse learners and lead his global team.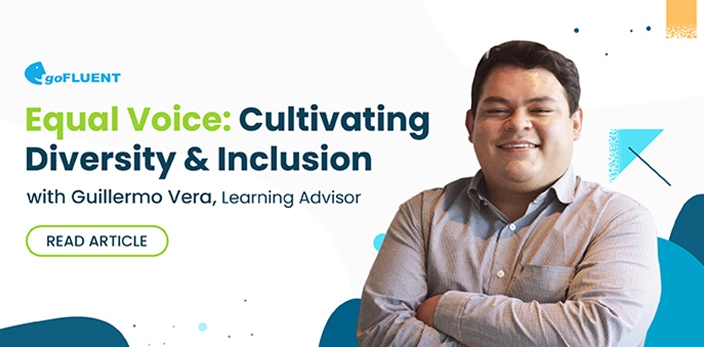 "I remember one of my learners. She is a native Spanish speaker. I remember her because she didn't speak English. In the beginning, she got mad at me because she could not access her email and I did not have her password. She was so mad," Guillermo shares when asked about a memorable experience with a learner. "But now, she feels like a very good friend. With a little patience and empathy, I helped her understand English. Now she can have a conversation with me, and she got promoted in her company."

Beginning as a Learning Advisor in goFLUENT, Guillermo Vera helps global learners, mostly non-native English speakers, to have seamless access to online language training. From conducting webinars to answering queries, he makes sure that every learner he interacts with is able to successfully access and complete their language training program.

With Guillermo's recent promotion as Head of Region, he now handles a diverse team with members from Venezuela, Russia, and France aside from guiding over 200 frontline learners assigned to him through the Amazon Career Choice Program.
Putting empathy in language training, learning alongside global learners
To help over 2 million global learners maximize their language classes, goFLUENT provides a dedicated learner support team to their clients. They directly interact with learners and assist them in their language training journey. They witness the beginnings and progress of learners worldwide. Part of this team is Guillermo.
Let's get to know you. What is your role in goFLUENT? What does your role entail?
Guillermo: My role as a Head of Region-Learning Advisor is to make sure each learner from my region gets to be contacted at least once a week, and for me and my team to help them solve every situation in the best possible way.

For my team members, I mainly dedicate myself to mentoring them. Part of my role is to be a good leader for the region, making their soft and hard skills valuable. We have weekly meetings to talk about how to deal with existing challenges, how to solve them and create updated strategies to achieve goals as a team and as a region.

Also as Learning Advisor in charge, I take care of different fulfillment centers from Amazon. This helps me be continuously aware of the needs of my team members and also work in a much more collaborative way with them because we have very similar responsibilities: get in touch with all of our learners, help them with any issue, solve their doubts, and keep them motivated to achieve their goals for better understanding of English language.

On top of your work, you also started taking classes through goFLUENT one month after you joined us. Why did you decide to do so?
Guillermo: I am interested in improving my English skills. I have meetings in English with my manager and other goFLUENT departments and I would like to do it better and feel more comfortable. Another very important reason why I am interested in my English lessons is to understand how my learners are taking classes and see the same thing that they are seeing and understand their side and the challenges they are facing.

How was your language learning experience?
Guillermo: It was amazing. I enjoy practicing conversations with my trainer. I have learned a lot in the classes like how to answer questions, how to get through a business meeting, and also how to express myself effectively.
Cultivating diversity & inclusion among co-workers and learners
Aside from providing service to global learners, working in goFLUENT also means being part of a culturally diverse workplace. This comes with both challenges and opportunities for growth.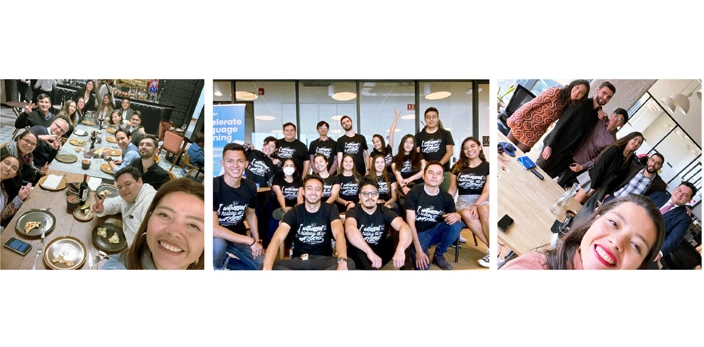 What is the most amazing about working with diverse teams and clients in goFLUENT?
Guillermo: I learn more about different cultures, discover different ways to communicate, and be memorable all around the world.
On the flip side, what's the most challenging thing about the diverse working environment? How did you overcome this?
Guillermo: My team is from different countries and has different ways of thinking. Being immersed in multicultural customs and understanding the different ways to think is needed. For the learners, they do not really know how to use the technology that we know, using computers or logging in to emails, and we have to guide them. Lots of patience is needed to understand them. I learned to remain respectful and empathetic.
What do diversity, equity, and inclusion (DE&I) mean to you?
Guillermo: Diversity is about different perspectives of people, equity is that everyone deserves to be treated in the same way, and inclusion is "to provide everyone an EQUAL voice." One example of this is with my learners. A lot of them are elderly people, so they didn't grow up with technology like us, and we have to be patient to understand that although this is the situation, they have the same opportunities and rights to learn as any other person.
I think that goFLUENT is able to support DE&I within the company because on our team itself, we have different cultures and we promote everyone's thoughts.
Looking into the future, what do you want to achieve in terms of DE&I in the workplace or through goFLUENT's mission?
Guillermo: I would like to build a team in which everyone feels comfortable. No matter where they come from or what language they speak, they can express opinions, suggest things to the team to make them grow, and share this with all their clients, students, and co-workers. My goal is that this thought can reach every part of the world and people understand that we believe in them.
Conclusion
Differences will always be present, but understanding and consideration give way to communication and belonging. It cultivates diversity and inclusion. When there is empathy in language learning, language becomes a tool to bridge cultural differences, bring meaningful interactions, and elevate each other.
Equal Voice aims to showcase the diversity of goFLUENT through highlighting the key role of language training in helping organizations achieve a more equitable and inclusive workplace where everyone can thrive. In this series, we amplify the voices of our colleagues whose professional lives have prospered with the aid of "language" as a tool to gain access to various work opportunities, no matter their gender, age, ethnicity, and social status.