Meet Viksha, a Senior Customer Success Manager (CSM) from goFLUENT Mauritius. Learn more about how CSMs can help build your company's language training strategy and assess ROI of training and language learning programs.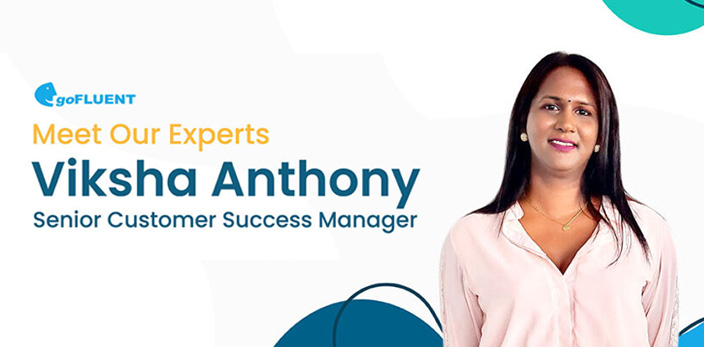 At goFLUENT, Customer Success Managers are one of the most essential drivers of success in every corporate language training program. They are the ones in-charge of supporting learning leaders to achieve their KPIs and have an effective training strategy.
Viksha Anthony, Senior CSM from goFLUENT Mauritius, actually started as a member of the Sales Administration Management (SAM) Team in 2017 and eventually became part of the CSM Department in 2020. Her team is in-charge of nurturing relationships with goFLUENT's client organizations as well as supporting them in designing, planning, and implementing their respective language training programs.
"In a few words, I can say that Viksha is a very special person in the team. She is able to combine the necessary interpersonal skills with both her clients and colleagues. She is a very dedicated and organized person who, thanks to her commitment, has allowed goFLUENT to gain visibility in a very competitive international environment, notably by winning a Brandon Hall Award recently," says Etienne Maîtreau, Customer Success Team Manager in goFLUENT France, when asked about his experience working with Viksha.
Learn more about Viksha and her role as a Senior CSM:
Please describe your role as a CSM. How long have you been working as a Senior CSM?
I've been working as a Senior Customer Success Manager since 2020. As a CSM, I'm at the heart of every project under my scope and I get assigned to different accounts and interact with a lot of clients. Being a Senior CSM means that I get to handle large and complex accounts.
CSMs should know a little bit of all different expertise within goFLUENT — from products, presales and implementation, to sales and marketing. In the end, we're the ones facing our clients. We're also the ones who present them the results of their language training programs and assess the ROI of their language training with goFLUENT.
What's the most fulfilling thing about being a CSM?
Interacting with people from different walks of life, both within goFLUENT and from our client organizations, is one of the most fulfilling experiences as a CSM. Our team is one of the teams who has the chance to work with many different teams internally. This gives us the opportunity to increase our skills set and expand our knowledge. As a CSM, I never get bored of my job because everyday is a learning experience. Everyday, I get to have my dose of challenge which makes my job motivating and interesting.
Last year, we won an award with Bayer France. We started working with them in 2017. Today, we're still working with them. It just feels great to share this achievement with the training department at Bayer France who continue to have a great relationship with us.
How are you able to incorporate your advocacy to your work at goFLUENT?
One of the reasons why I enjoy working at goFLUENT is because we promote solutions which aim to provide an equal voice for everyone. Hence, I always make sure that our clients understand the importance of our language training solutions which supports their strategy to give equal access and opportunities for each and every employee within their company.
Equality has always been my advocacy. Outside work, I fight for equality and rights of senior citizens and children with diabetes in Mauritius, making sure everyone is treated equally. Professionally, I make sure that "newbies" acclimate to the workplace environment quickly. Whenever there's a new member of the team, I always try to give them the knowledge they need through training.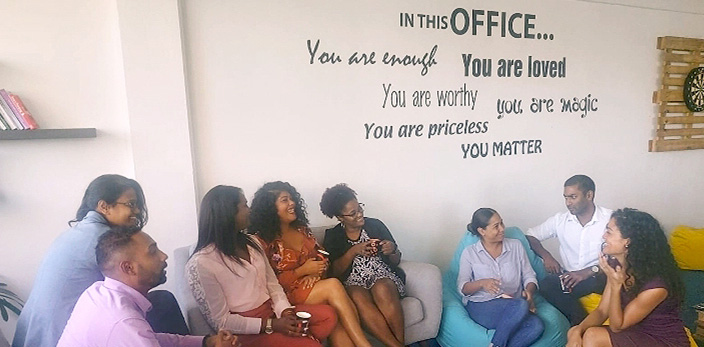 Also, I contribute in employee welfare management and events planning within goFLUENT Mauritius. I'm part of the employee engagement committee, and we always aim to give everyone from different teams a word or say in all activities that we're organizing to make sure everyone has an equal voice within our organization.
How do you determine whether or not you're doing well in your job?
Feedbacks from our clients and within our organization are very important. I conduct regular meetings and business reviews with clients to show them the results and progress of their learners. During these meetings and before renewals, clients usually express their evaluation which is really essential for us to better improve our solutions and services.
One of our goals is to have low churn rates which means a low number of clients who aren't renewing their contracts with us. So as a CSM, we make sure that our clients are satisfied in terms of the ROI of their language training with us. Our main goal is to improve their workforce's language proficiency skills which will eventually lead them to continue working with us.
What do you consider to be your biggest success as a CSM?
I think my biggest success is being a part in providing an equal voice for all my clients and their learners. In 2021, we were a candidate for the Brandon Hall HCM Excellence Awards wherein we won an award with Bayer France in the Best Use of Blended Learning category. Organizations given the award have exhibited the ability to have a perfect mix of different learning modalities in their employee training. And we've done it with Bayer France.
It was a very satisfying moment for me because I've been working with them since 2017. At last, all our efforts have paid off!
What is the 'secret' to becoming a successful CSM?
For me, keeping a healthy and good relationship with the client is the key to success as a CSM. For you to achieve this, you need to have a good personality. Clients want to see you interacting with them as a human being. It's always nice to give them a smile or send them greetings too!
Meet Our Experts is a blog series featuring different voices from various teams at goFLUENT. From professionals who nurture our client relationships, consultants who motivate and engage our learners in their journey, to those building and creating our content and products, this series showcases different stories of how our experts have been contributing to the success of our clients' language training journeys.