Get to know Tarie, a Training Content Editor from goFLUENT Philippines. Learn more about how the Content Team develops level-appropriate language training content that empowers learners to achieve their goals.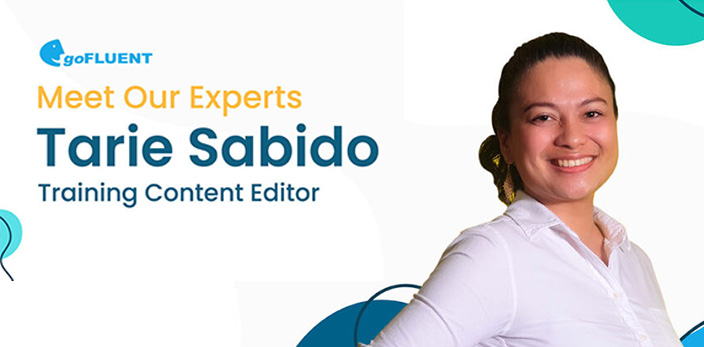 At goFLUENT, the Content Team is in-charge of developing, editing, and publishing learning materials for goFLUENT's clients, learners, and even trainers. All of these language training content are readily available in goFLUENT's eLearning portal, Corporate Language Academy.
Content within the language training portal covers a wide range of industries, interests, and job-specific activities, including specialized topics in the legal, healthcare, and banking and finance sectors. The Content Team also produces in-house language learning content featuring goFLUENT's own trainers as they teach quick English tips and tricks through goFLUENT Originals.
In this edition of our Meet Our Experts blog series, we're featuring Tarie Sabido, one of the Content Team's superstar editors who has been working within her role for a total of almost six years already.
Get to know more about Tarie and her role as a Training Content Editor:

Can you tell us about your role as a Training Content Editor?
The Content Team authors, organizes, and manages activities for our eLearning portal. Within the team, we have writers who develop the language training activities. Before these activities are uploaded to our language training portal, editors, such as myself, review them. We ensure that they are high-quality and that they empower learners to use their target language in everyday work situations.
Editors check that an activity's design, organization, and structure are all appropriate for the target audience and the intended use (i.e., for learning a language). When reviewing an activity, we ask these questions:
Is everything the writer developed appropriate for the language level of the target learner?
What are the objectives of this activity?
Do all the elements serve to meet the objectives?
Does the activity encourage authentic learning?
Is the activity an example of good writing?
Does the writing reflect how the language is really used in the business/professional world?
We also make sure that all activities are aligned with goFLUENT values and standards.
What's the most fulfilling thing about being a Training Content Editor?
The best thing about being an editor is working with writers. While I love language, I love collaborating with writers even more! For me, the writer-editor relationship is one of the most challenging, rewarding, fulfilling, and long-lasting professional relationships in the world. For me, every activity I edit is like a puzzle to solve with a writer, which makes my job exciting and challenging.
How are you able to incorporate your advocacy to your work at goFLUENT?
My advocacy aligns with the mission of goFLUENT — to provide everyone an equal voice. As a Training Content Editor, I get to be part of the team creating useful learning materials that help people who use English as a foreign language communicate and collaborate better with others.
Also, I've always been passionate about languages, literature, and learning. Because of my job, I'm able to promote and celebrate languages and learning every single day.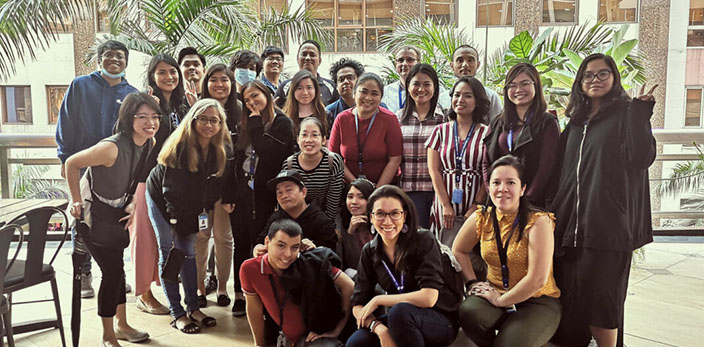 How do you determine whether or not you're doing well in your job?
I know that I'm doing well when my team is doing well. For us, everything is a team effort and every success is gained through collaboration.
One way we see or measure our success is based on the KPIs of our clients, such as time spent on the language training portal and number of completed activities within the portal. We also ask for our learners' feedback through surveys. We refer to our "numbers" to help us determine success. Here are some of them:
| | |
| --- | --- |
| 90,000+ | 16,000+ |
| Number of completed English activities from January to April 2022 | Number of completed activities in other languages from January to April 2022 |
To guarantee that all the activities we develop are appropriate to each user according to their language level, we use an EFL (English as a Foreign Language) matrix, the CEFR (Common European Framework of Reference for Languages), and vocabulary profiling tools as our guides. We make sure that our language training content for a particular level is aligned with its corresponding level in the matrix.
What is the ultimate goal/dream of the Content Team?
The ultimate goal of the goFLUENT Content Team is aligned with goFLUENT's main goal — to provide everyone an equal voice. We want to equip learners with the language skills they need. This way, they can collaborate with their colleagues more comfortably and efficiently and serve their clients and customers more confidently.
A month after our conversation with Tarie in April 2022, she was promoted to Team Leader for Content Editors. She now supervises and mentors editors aside from curating content for goFLUENT's language training portal. Her content curation responsibilities include approving titles for publication, reviewing content to ensure brand consistency, and monitoring any changes done to the content.
Meet Our Experts is a blog series featuring different voices from various teams at goFLUENT. From professionals who nurture our client relationships, consultants who motivate and engage our learners in their journey, to those building and creating our content and products, this series showcases different stories of how our experts have been contributing to the success of our clients' language training journeys.