With the launch of Emile, goFLUENT stays true to its commitment to make language learning more accessible and engaging through online face-to-face lessons, enabling business professionals around the world to harness digital technology in training and development.
goFLUENT updated and improved its Group Lessons which now allow learners to have a full classroom training experience through the use of engaging and immersive virtual classrooms that enhance the learning experience from in-person training sessions. It leverages the video conferencing capability of Microsoft Teams and the power of interactive whiteboards to facilitate virtual instructor-led training (VILT).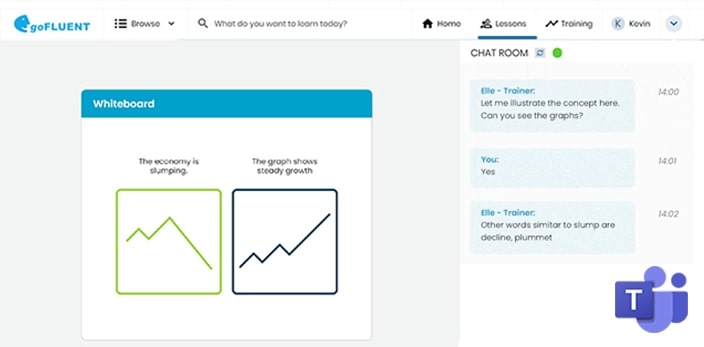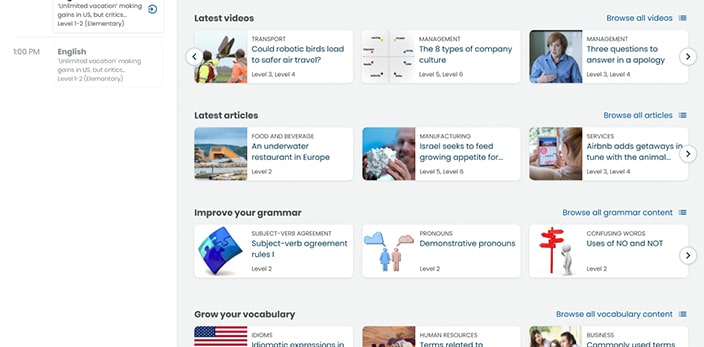 Each Group Lesson is a 14-week long language learning program (35 hours in total) consisting of a maximum of five learners within the same organization or company. Sessions are done weekly with 1 hour and 30 minutes per week allotted to lessons with a certified language trainer while 1 hour per week is spent on supplemental eLearning materials (articles, videos, and how-tos on business-focused learning content). These can be adjusted based on the needs and objectives of learners and teams.
The main benefits of goFLUENT's Group Lessons are:
Promoting real-world target language application through scenario-based simulations

Prioritizing learner participation through practice with facilitated interactions

Encouraging discovery and collaboration with breakout group challenges

Fostering constant improvement through continuous feedback from the language trainer
Currently, Group Lessons are available in English and separated into two categories — workshop-based lessons and language essentials.
These lessons are focused on English language lessons that are essential for business communication in English such as leading meetings and conferences, business presentations, and negotiations. Only learners with an intermediate and upper intermediate level (B2 and above) can take these lessons.
Meetings: Facilitating and conducting effective meetings. The lesson enables learners to speak in English with greater confidence and precision for them to be able to facilitate meetings, provide and respond to feedback, share their experiences and opinions, brainstorm with other professionals, and motivate other individuals and teams.

Presentations: Adapting your presentation style to suit your audience. It covers topics that help learners give effective professional presentations in English through learning how to apply a range of language and expressions for presentation, persuasion, instruction, and recommendation.

Negotiations: Negotiating so that everyone feels like a winner. Learners are equipped with the language skills to improve professional English for win-win negotiations. The lesson also aims for learners to confidently apply a range of language and expressions for handling challenging counterparts and issues during various negotiation phases and master intermediate-level spoken English.
Group Lessons under this category aim to help learners in gaining the confidence and equipping them with the language skills to hold and maintain business conversations which are essential for simple and basic professional interactions and situations.
Beginner (Level 1). The language lesson emphasizes on essential greeting and introduction to help learners gain more confidence in using conversational English. More than this, it also covers topics such as sharing and requesting information about job roles and activities, holding small-talk about jobs, interests, and locations, and describing their own routines.

Elementary (Level 2). With this, learners are able to develop their ability to easily communicate in professional settings and context and gain confidence in using spoken English at the elementary level.

Lower-Intermediate (Level 3). Learners taking this lesson are expected to improve their professional spoken English to confidently apply a wide range of language skills and expressions at the lower-intermediate English level.
Group Classes in English are now available in Emile, goFLUENT's most powerful innovation yet, and you can now sign up for a free hands-on demo to get to know more about goFLUENT's latest language learning solutions.